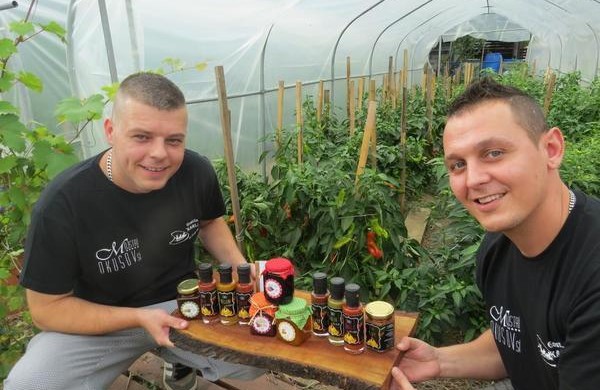 Lastnika blagovne znamke Mojstri okusov
/Owners of the trademark Mojstri okusov // die Eigentumer des Markennamen Mojstri okusov (»Die Meister des Geschmacks«)
DAVOR IN RENATO BRAČIČ
Brata Davor in Renato Bračič iz Rač pri Mariboru ob delu v domači gostilni Karla, pod blagovno znamko Mojstri okusov, razvijata linijo pekočih omak, marmelad in ostalih gurmanskih izdelkov na osnovi čilija, ki ga pridelujeta v rastlinjaku na domačem vrtu. Njune omake so že stalnica v številnih gostinskih lokalih po Sloveniji, posebno mesto pa imajo seveda v njihovi domači gostilni. »Čeprav je na naših jedilnikih veliko klasičnih in tradicionalnih jedi, tudi takšnih na žlico, se je čili izkazal za odličen dodatek, ki popestri in izboljša okus jedi,« razlaga Davor Bračič in s ponosom pokaže na prodajno poličko s sedmimi različnimi vrstami pekočih omak. Med osnovnimi sestavinami omak so sveža paprika, paradižnik in čebula, ki jih Bračičevi pridelajo na domačem vrtu, preostanek pa odkupijo od okoliške vrtnarije. Edini konzervans, s katerim dosežeta trajnost omak, je kis, k določenim pa dodata še sladkor.
…………………………………………………………………………………………………….
I Brothers Davor and Renato Bračič from Rače near Maribor are working in their own restaurant Karla and also developing a line of spicy sauces, marmelades and other gourmet delicacies, based on their homegrown chili. Their sauces are already well known in many restaurants across Slovenia. And off course they deserve a special place in their own restaurant. »Although our menus contain many classical and traditional dishes, including stews, chili turned out to be an excellent addition that enriches and enhances the dish´s flavor,« explains Davor Bračič and proudly shows us the display with seven types of spicy sauces. Among the main ingredients are fresh peppers, tomato and onion, homegrown on the garden of Bračič family, and the rest is bought from the surrounding gardeners. The only preservative to keep the sauces fresh is vinegar, and some sauces also contain sugar.
……………………………………………………………………………………………………
II Die Gebruder Davor und Renato Bračič aus »Rače pri Mariboru« kreieren in ihrem Gasthaus eine eigene Linie von scharfen Sosen, Marmeladen und anderen Produkten auf Chili-basis, die den Namen »Die Meister des Geschmacks« (Mojstri okusov) tragt. Die Chilischoten bauen sie gleich im eigenen Garten an. Ihre Sosen sind bereits ein fester Bestandteil zahlreicher slowenischer Restaurants und haben dazu noch einen besonderen Platz in ihrem Gasthaus. »Obwohl wir sehr viele traditionelle Speisen und auch Loffelgerichte anbieten, haben wir festgestellt, dass Chili ein sehr gutes Gewurz ist, weil es den Geschmack des Essens verbessert und diesem ein gewisses Etwas gibt,« erzahlt Davor Bračič und zeigt stolz auf ein Verkaufsregal mit sieben Arten von scharfen Sosen. Zu den Basiszutaten ihrer Sosen gehoren frischer Paprika, Tomaten und Zwiebeln. Einige Zutaten bauen die Gebruder selber an und den Rest kaufen sie von einer Gartnerei. Das einzige Konservierungsmittel, welches sie bei der Zubereitung ihrer Sosen verwenden, ist Essig. Bei manchen Sosen fugen sie auch noch Zucker dazu.